The results are in from the 2023 Best Book Monkey Author Marketing Survey. A huge THANK YOU to all the authors who responded and provided such great feedback and insights.
The results of this survey will help the Monkey make decisions regarding our development plan and prioritize the deployment of new features, functionality, products, and promotions.
The Survey was broken into four sections:
Potential New Genres
Expanding our CURRENT Promotions
New Promotion Capabilities
Can the Monkey pay you?
Each of the sections also contained free text fields for authors to provide additional feedback.
We are occasionally asked why we don't have more genres. It's a balancing game between authors' book promotion orders and readers' newsletter preferences.
Each day our newsletter goes out, and we want to ensure that each genre we offer is represented. Readers have the capability to choose which genres appear in their newsletter. Some readers select very few genres.
We would see significant unsubscribes if readers don't have books in their genre in the newsletters they receive.
So from the author book promotion side, we need to have orders coming in for each of the genres to keep the newsletter full.
As such, we select relatively broad genres that give readers a high likelihood of finding appealing books and provide authors with a broad enough genre in which to slot their books.
However, we understand that authors want to be more precise in their genre targeting and representation of their works.
What Fiction Genres Should The Monkey Add?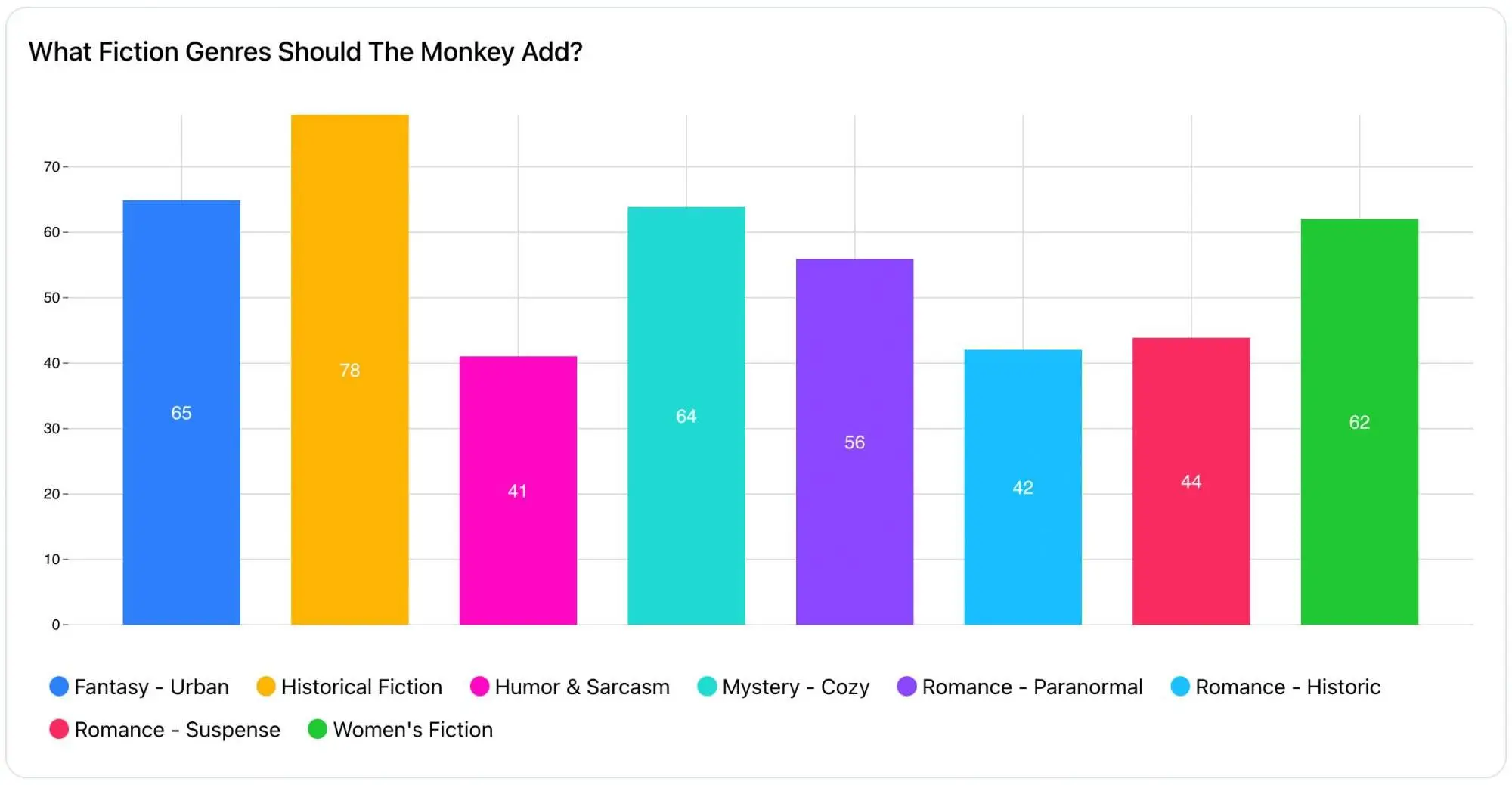 What Non-Fiction Genres Should The Monkey Add?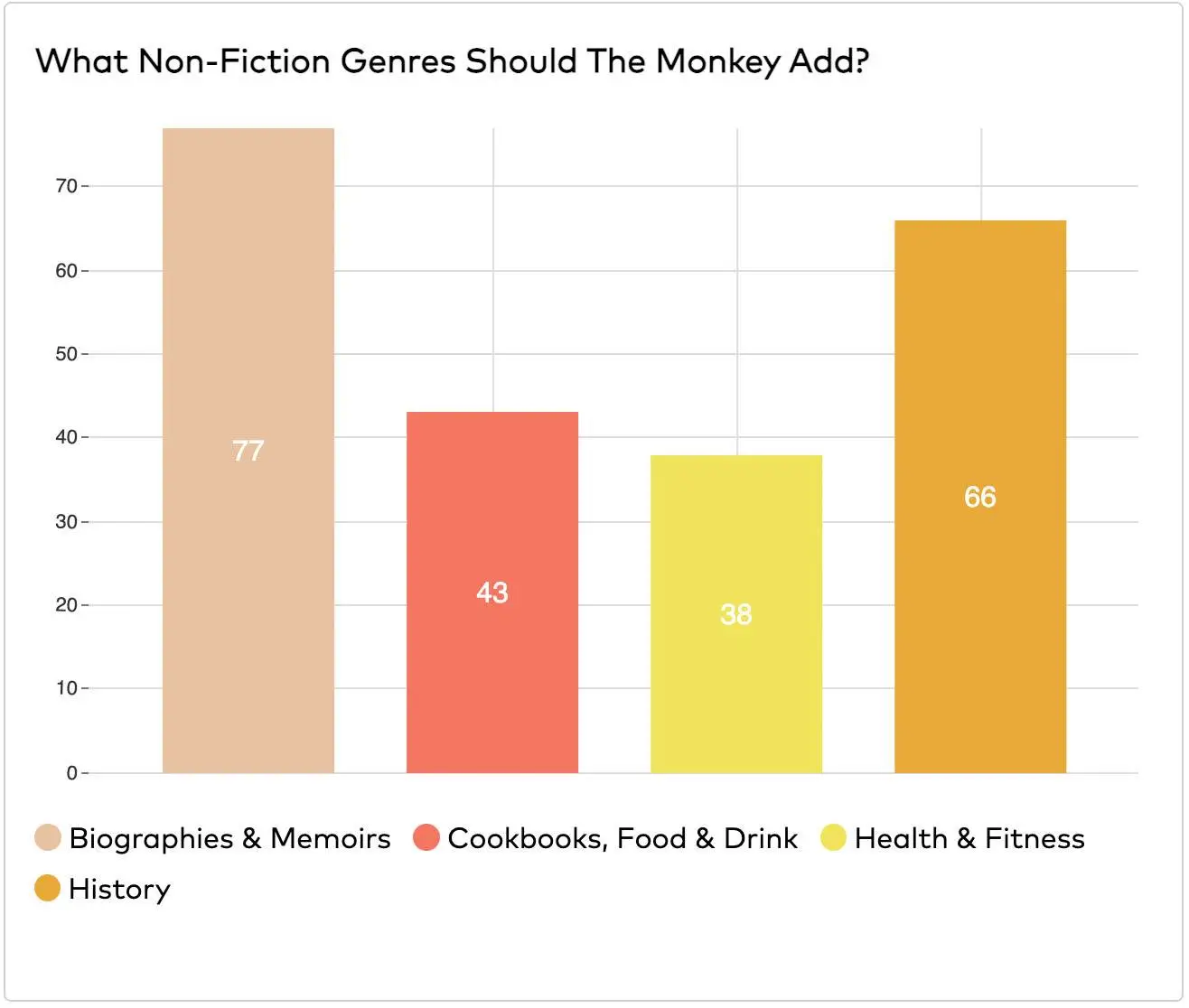 What Specialty Genres Should The Monkey Add?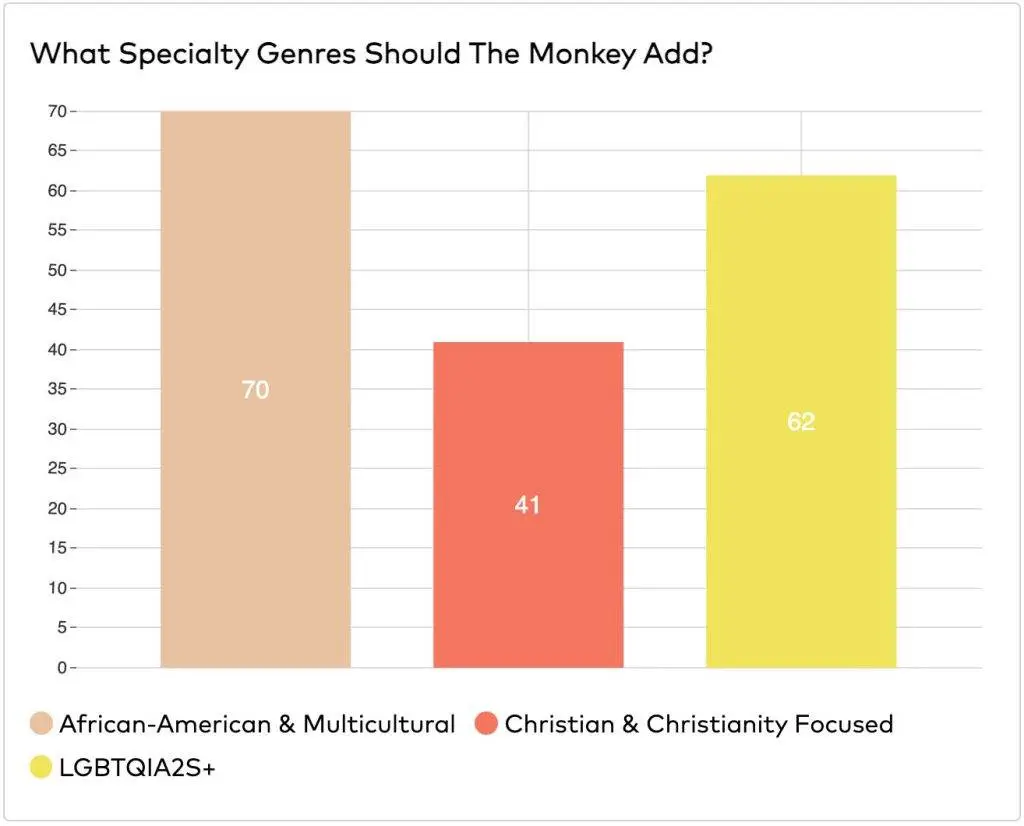 Are there other genres that would you be interested in seeing Best Book Monkey add?
Adventure
Art History & Theory
Blended Genres
Carribean Writers
Children – Christian
Clean Fiction
Climate Education(2)
Comics, Manga & Graphic Novels (2)
Contemporary Fiction
Creative Growth
Crime Fiction – Caper
Current Events
Disabled & Neurodivergent (Fiction)
Dystopian
Eclectic Short Stories
Erotica (not romance)
Fantasy – Dark
Fantasy – Gaslamp
Fantasy – Historical
Fantasy – Portal
Fantasy – Postapocalyptic
Fantasy – Romance
Literature of Dispair and Inhuman Cruelty
Metaphysics and Philosophy
Middle Grade (4)
Motivational Self-Help (2)
Mystery – Female Detective
Native American
New Adult
Parenting
Picture Books
Poetry (3)
Poetry – Teen
Political
Political Fiction
Popular Science
Purposeful Living
Romance – Clean
Romance – Later in Life
Romance – Science Fiction (2)
Romance – Sports
Romantic comedy
Science Fiction – Mystery
Science Fiction – Space Opera
Spanish Language
Steampunk (3)
Superhero
Teens
Thriller – Medical
Thrillers – Psychological
Thrillers – Supernatural
War
Wellness
Westerns – Clean Romance
Xianxia
Young Adult – Fantasy
Level of Interest Questions
The following sections asked authors to rate their level of interest in specific additions or new promotional capabilities. The level of interest was recorded on a 0-5 point scale, with 0 representing "Not Interested" and 5 representing "Very interested."

Expanding The Monkey's CURRENT Promotions
Adding the Kobo Plus logo below the book cover on the website and in the newsletter to indicate that the book is included in the Kobo Plus program (similar to KindleUnlimited)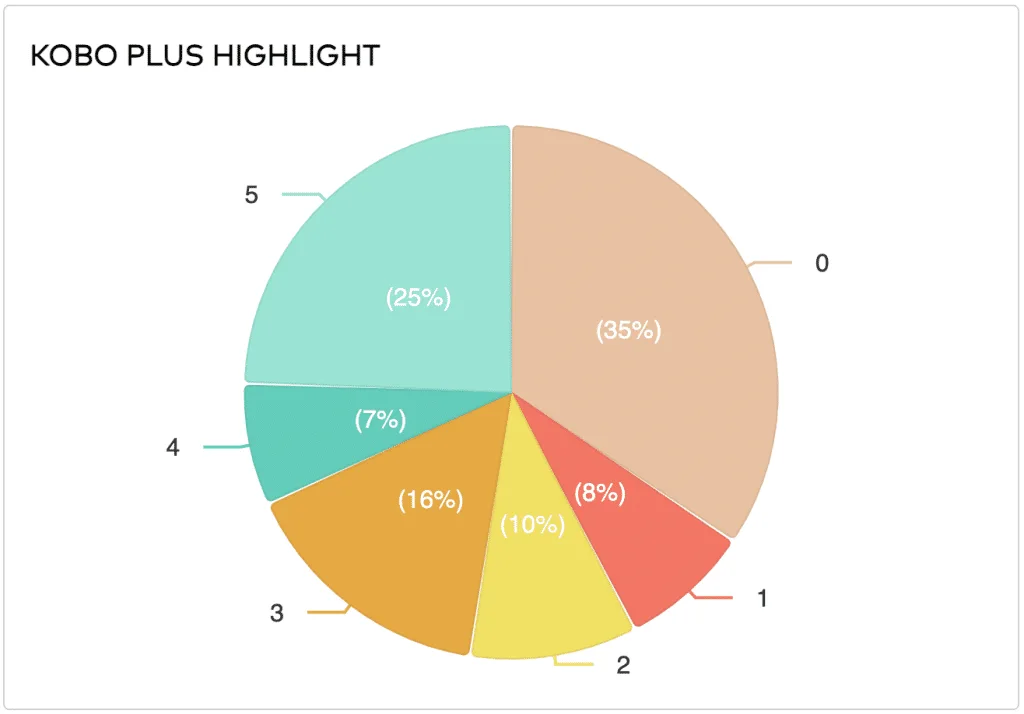 Adding your book's Bookbub link on the website and in the newsletter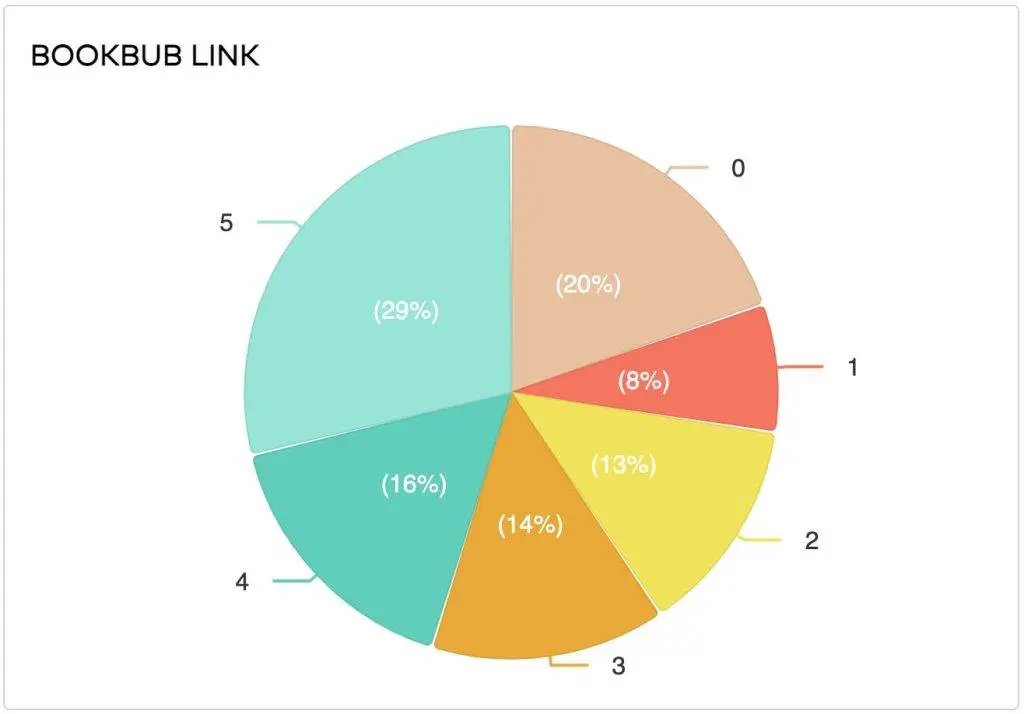 Adding a link to your author website on the Best Book monkey website and in the newsletter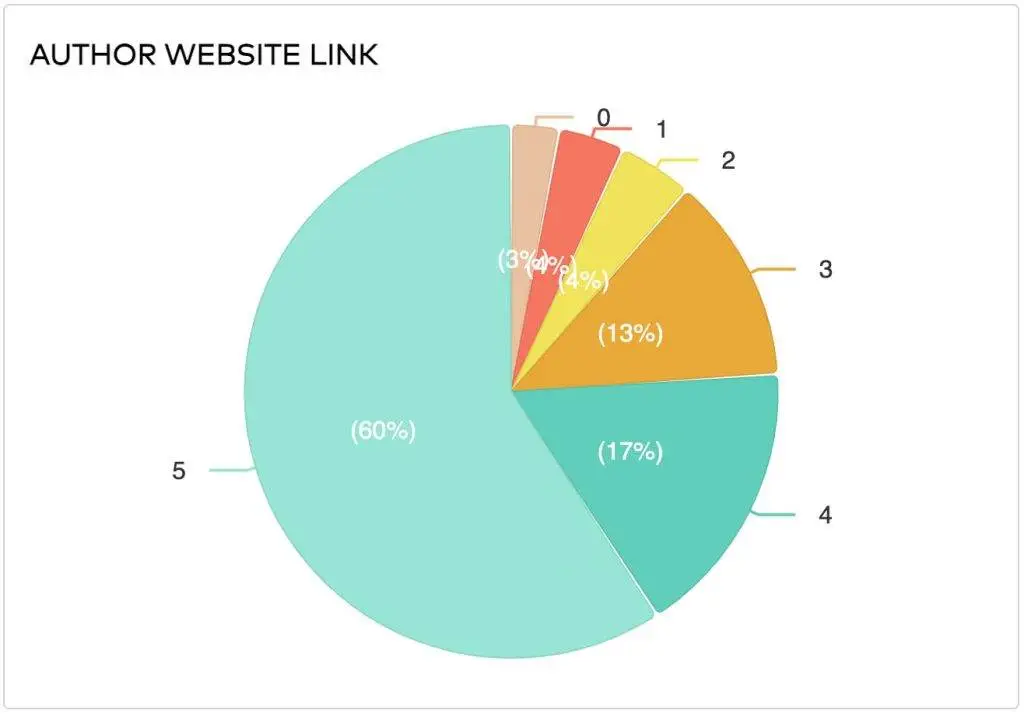 Adding a link for your book's YouTube video trailer to the newsletter and embedding the trailer in the website.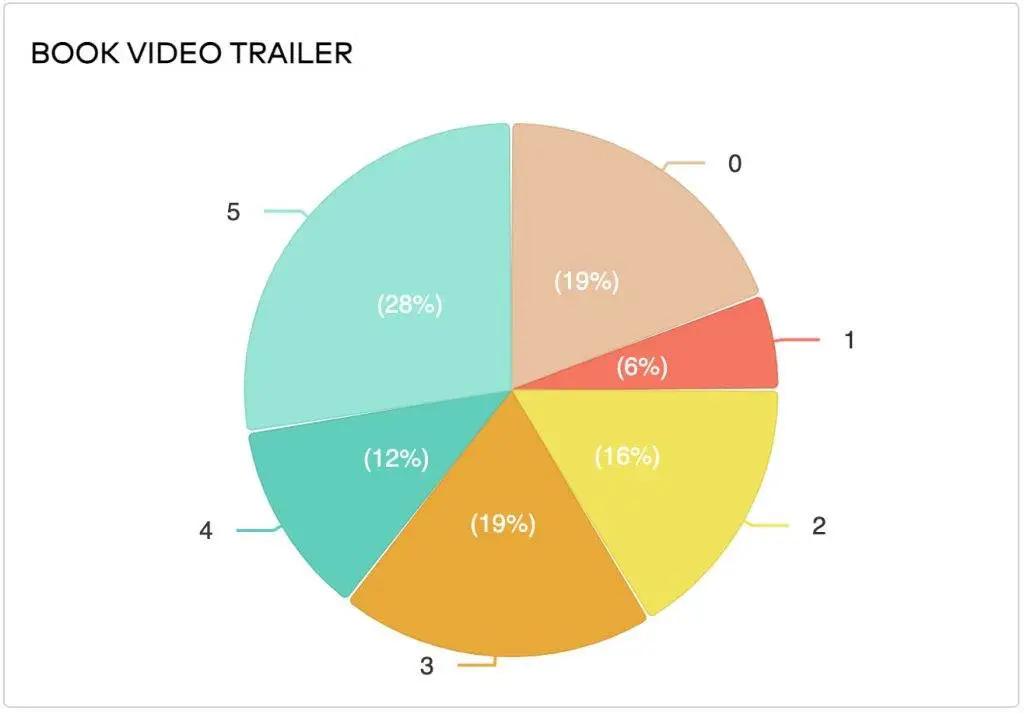 Are there other links or items that you would like to see Best Book Monkey offer as part of our CURRENT promotions?
Amazon Author Page (6)
Audiobook Link (3)
Facebook Page (3)
Instagram
Linkedin Profile
Overdrive
Paperback Link
Reddit link
Reedsy Discovery
Simplified Re-Promotions (4)
Social Media
TikTok (3)
Tolino
YouTube Author Interviews
YouTube Profile (2)
The Monkey's Future Products and Capabilities
Please indicate how interested you are in having the following additions to Best Book Monkey.
Books shorter than the current 15,000-word requirement. This would include Kindle Vella.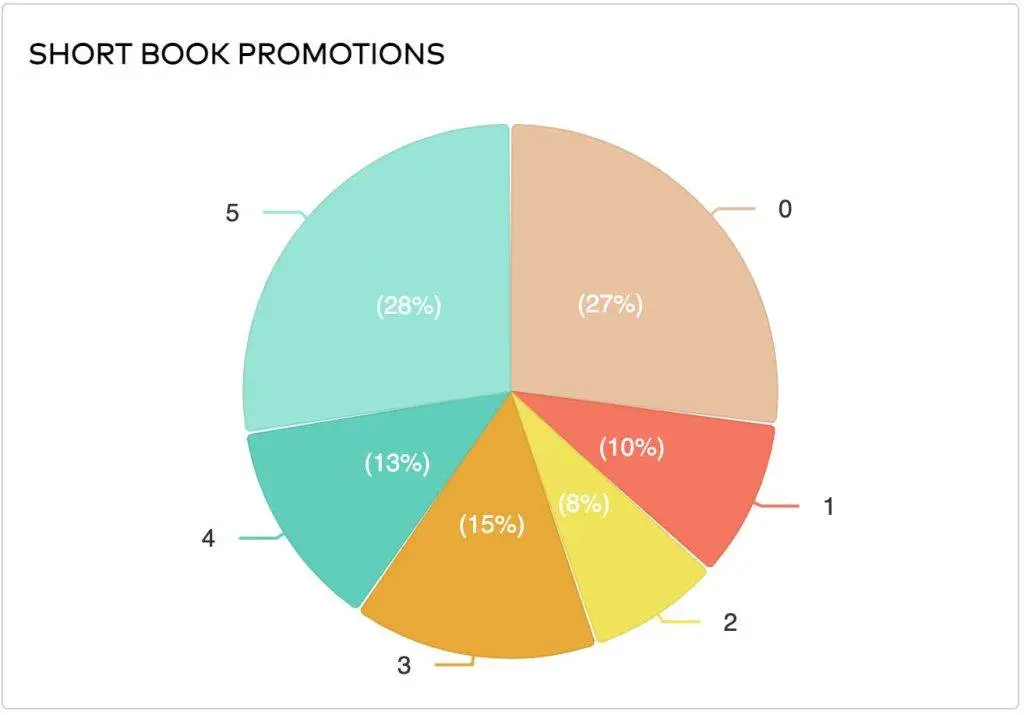 Downloads or sales from your own website or services such as BookFunnel, StoryOrigin, Prolific Works, and BookSprout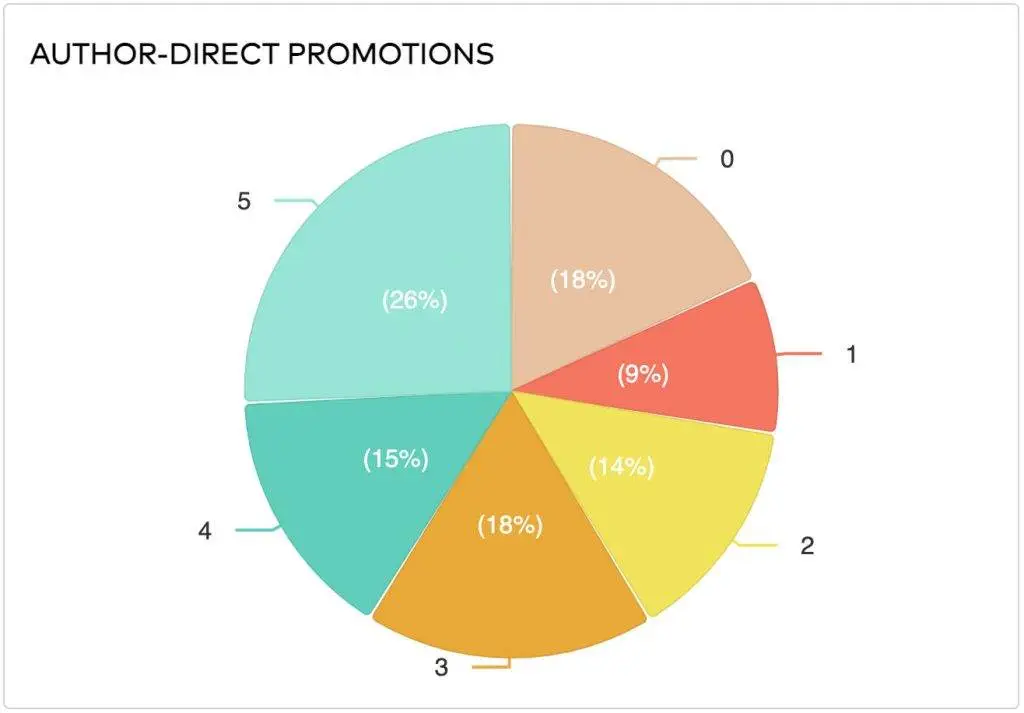 Specifically promoting your audiobooks.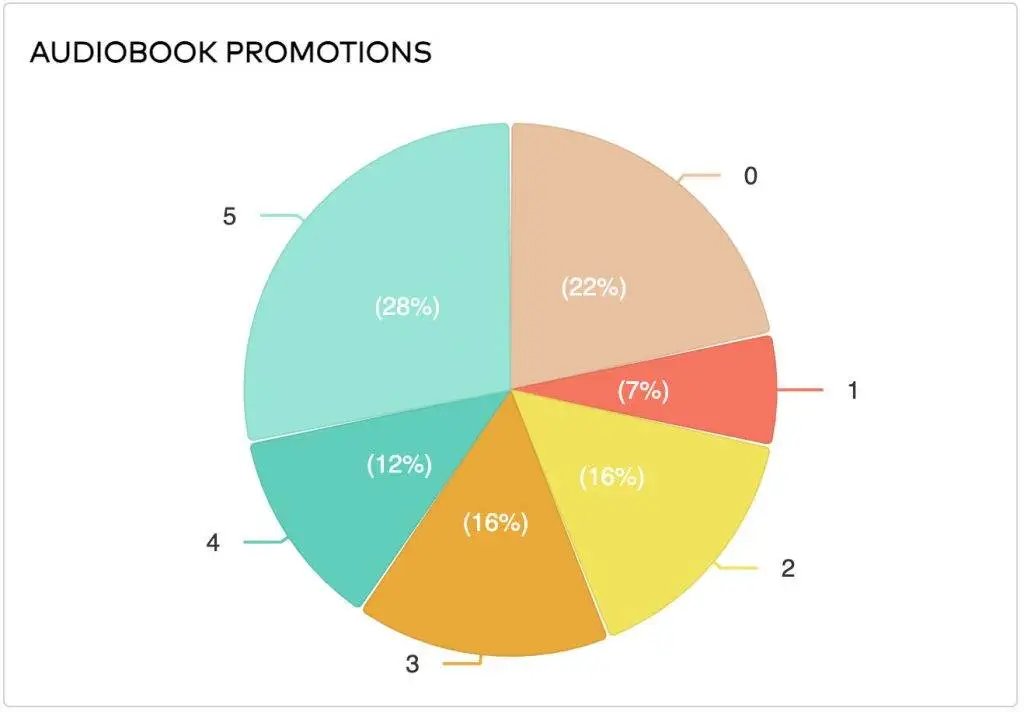 SOCIAL READING PLATFORM PROMOTIONS
Promotions to drive readers to your books on Wattpad, Sweek, Booksie, and similar apps.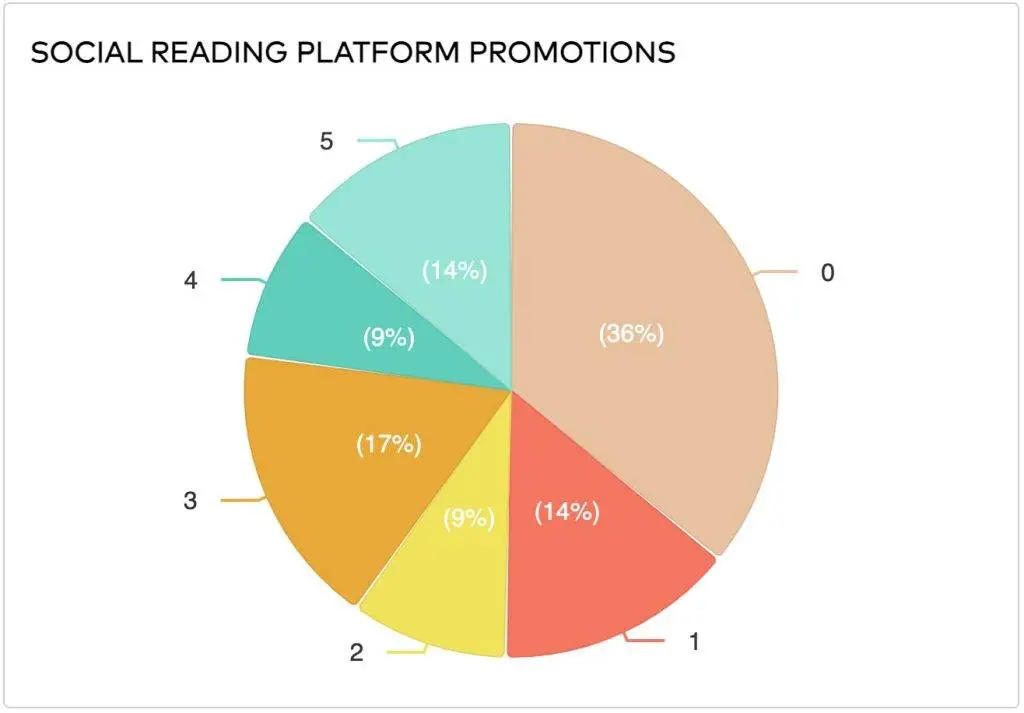 These would be included on the website and in the newsletter.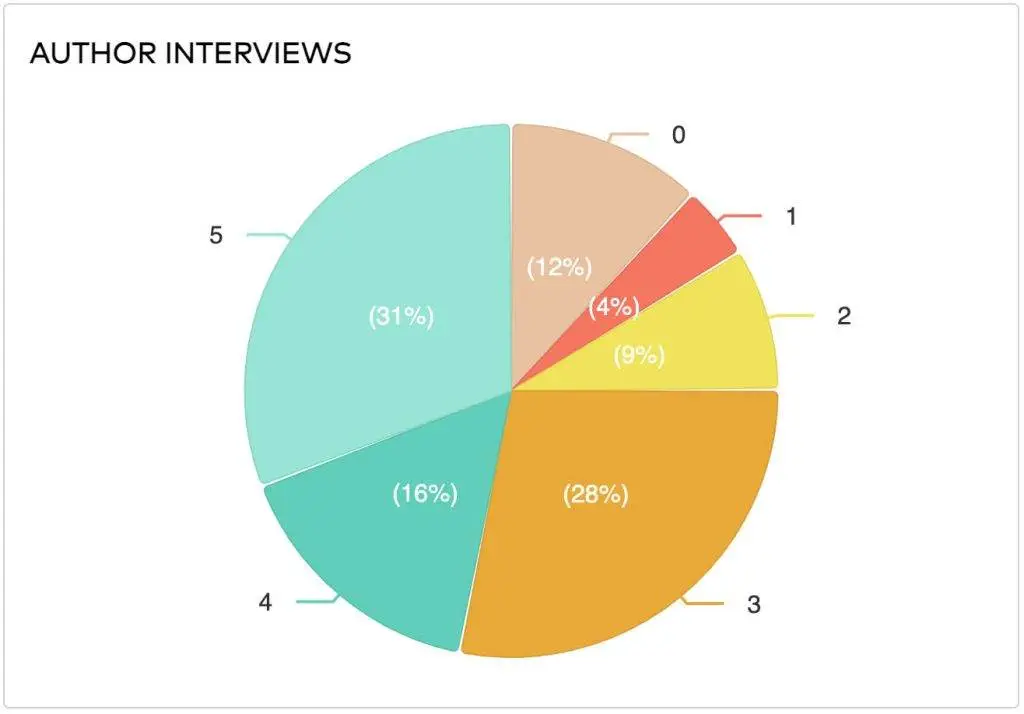 Please share any ideas for other promotions that you think would benefit you as an author.
Monkey Note: This is a sample and simplification of the responses we received. Many of the ideas were longer and involved and didn't fit here.
Author Promotion
Book Series Promotions
Contest (Gleam/KingSumo/etc)
Editorial Book Reviews
Free Signed Copy
Promotions/Contents
Genre-Specific Emails
Honest reviews system
Longer Promotions
More Goodreads Interaction
Physical Book Promotions
Podcasts
Review-Driving Product (4)
Commissions for Helping the Monkey Grow
We are exploring two programs that would directly benefit authors who refer authors or readers to Best Book Monkey.
Please indicate how interested you are in either of these programs.
A program providing commissions for each GOLD Promotion Package that is purchased by authors you refer to Best Book Monkey.
This would be a traditional affiliate program based on sales.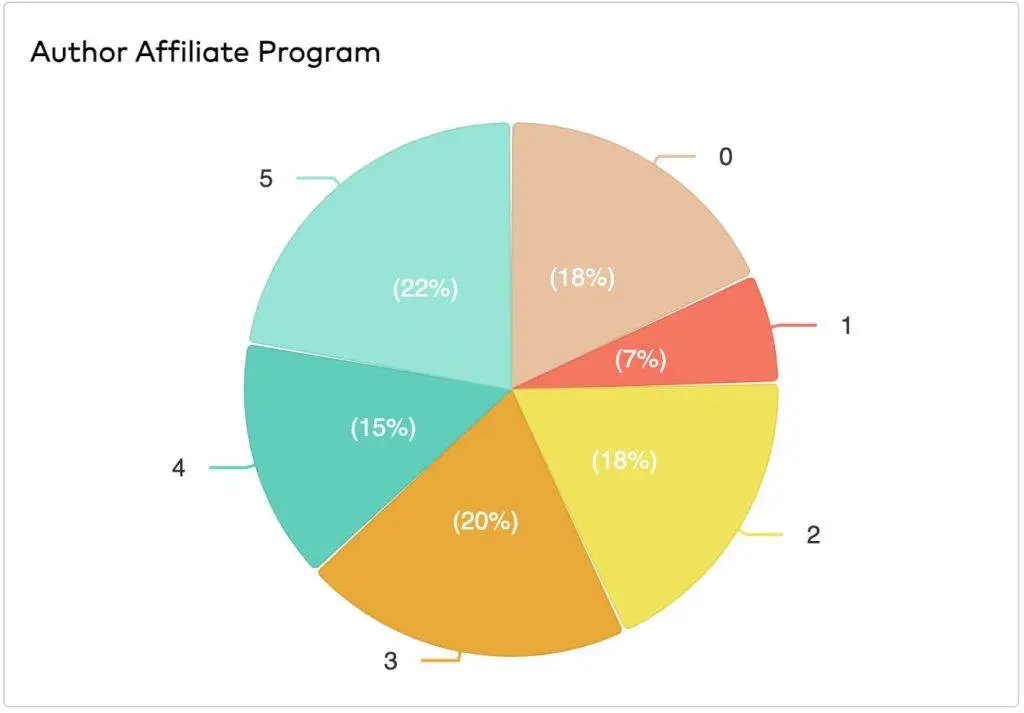 A program providing incentives for referring readers to Best Book Monkey.
For an author, referrals can be built via links on the author's newsletter, website, social media, email signature, and any other place a link can be placed. Incentives may include direct payments, GOLD Promotion codes, and/or other items beneficial to an author.